We have been in business since 1994. Prior to 1994 all of our personnel were involved in the courier industry in various management and supervisory roles.
The wealth of experience acquired by our personnel has enabled us to grow steadily in a controlled manner to our present position. Recently we re-located to modern and spacious purpose built offices situated ½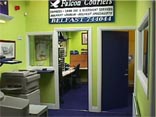 mile from Belfast City Centre and within easy access to motorway and main road network.
We are also members of the 'Despatch Association', an organisation set up to maintain standards within the courier industry and to lobby in parliament on behalf of member courier organisations in respect of transport issues etc which may affect the industry and the industry's ability to serve our clients. The Despatch Association is based in London and its president is The Viscount Lord Falkland.
We have also developed our own unique customer invoicing system, which has benefited our clients immensely as all invoices are extremely clear and informative, and thus enables regular users to reconcile monthly courier expenditures with ease.